Welcome to the Link-Up for BOMs Away Mondays!
We'd love to see the BOM you're working on lately.
This week's link-up is at the bottom of the post.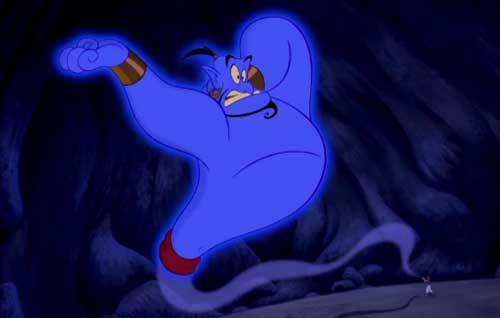 ::Robyn Williams Genie voice from "Aladdin":::
"Oy! Ten thousand yeeeears will give you such a crick in the neck!"
Well, it hasn't been ten thousand years, but it sure has been a long time that I've been away. I got slammed trying to finish special Christmas presents in time for shipping and for us to leave on a very special extended-family vacation gifted to everyone by my father and his wife (in addition to decorating the house for one person who had to stay home for work and the houseguest they would have, and just plain getting all the rest of us ready for that trip). The chaos of those efforts and a Lupus flare that was compounded with a cold and persistent vertigo kept me spinning until now just to manage normal daily functions.
Now that I am almost back to normal status, I'll post a linky for BOMs Away in case anyone is still out there and has gotten themselves back to normal operating mode in quilting matters. I sure haven't, so I don't have anything BOMish to share. I don't even have photos loaded into my computer yet to share my Christmas finishes. I'll get back to you in a couple days with that stuff.
Scott and Me
Grandpa & Barbara with all the present grandkids on Christmas Day
But here's a fun pic or two from our Christmas cruise in the western Caribbean that my father and his wife gifted to everyone! It spanned both Sundays around Christmas and stopped at Cozumel in Mexico, Grand Cayman, and Montego Bay in Jamaica. We got to spend time with relatives we rarely see, we basked in a climate that is completely different from Colorado's, and maxxed out our shore excursion fun. It was worth the almost-two weeks of being ill afterward. :)
A couple Cozumel shots:
Scott, Heather, Me, Marissa at the ruins of Tulum in Mexico
Marissa and Julia overlooking the sea at Tulum in Mexico
Me and Scott with some Mayans at Tulum in Mexico.
(Yes, that's a real boa, and it was beautiful)
A couple Grand Cayman shots:
Our family & Nicole's at Dolphin Cove on Grand Cayman
Heather with Lucea, who seemed like she was having a lot of fun with us
Marissa and me at Stingray City (a sandbar 1/2 hour ferry ride off of Grand Cayman)
A couple Jamaica shots:
Climbing Dunns River Falls
Our family and Nicole's
Montego Bay from ship's top on Christmas Eve
Thanks, Dad!!!
I sure hope you all had a nice Christmas. If you're still around and have anything to post that you've accomplished in the last few weeks with your BOMs or other interval works, feel free to link up more than one of those posts.