Yes! You're in the right place for BOMs Away Monday.
Are you getting excited for Christmas? I am. :)
This week's BOM time was spent working on Allietare Clue 2 and on the first mini of a year-long gift.
I cut all the pieces out for Clue 2 of Allietare, sewed one set of the units up, and tucked everything away with a note in a zippy until after the holidays. Looking forward to when it gets its sewing time! Thank you again to Bonnie Hunter for this year's Mystery.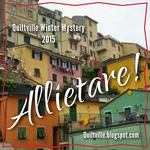 Go "HERE" for Bonnie's current listing of "Allietare!" mystery details and to find specifics of sizes and numbers of units. I'm linking my smidge of work on her Linky for this week, here: Allietare Part 2 Link-Up
As for the Gift BOM, right now I can only give you a peek:
I'm really happy with how it turned out. :)
I was also really happy yesterday - It was Belt Test Day at the dojang, and we three got our red belts. I feel like it's our first step of really getting there. I love the hanboks that people wear sometimes for these occasions.
Master Lee really surprised me when he called me up to join Leadership. He always gives red roses to people, young and old, when they are given invitations.
I love all the fantastic people we've met through Taekwondo. You can't find better folks. :)
How about you? - Did you work on BOMs this past week or so?