Here are my February goals for UFO-busting. Top Three Lineup:
Charity Quilt 3
-
A perfect flimsy to try out some FMQ feathers. Been a flimsy since 2011 because it got lost in the stash - found during unpacking. (It's a wheel chair lap quilt.) I want to structure some community sewing such as this into each month. I miss the sessions I did with my Florida guild periodically.
Amaretto Cottage
- Just got home from its trip to Maine where it was stunningly quilted by Margaret Gunn!! This baby MONSTER is getting bound! It's ginormous at 112" x 112" (before quilting), so once I get the binding attached, who knows how many evening show sessions it's going to take to stitch down. The flimsy was made a year ago. The UFO status came from the complicated move, not from the quilter!
Hawaiian Etude
-
Surely this will see its last hand quilting stitches this month. :) This has been shoved back into the UFO pile several times when bindings out-ranked it. Been in the works since July, which is really a shame considering how pretty it is and its small size at something like 15 inches. Hawaiian quilting is intense, though - echoes and echoes and echoes. . .
I do also have a special gift quilt in progress. Hoping to have it quilted and gifted by month's end.
And I have a quilt-retreat weekend later in the month that I'm dedicating to catching up my Rainbow Jane. Hopefully this chart will be 3/4 filled by March 1.
Last month was a great one for quilting, as I I took a break from grad school for an apparently much-needed sanity breather in the face of many family challenges. (Plus I couldn't pay for this semester after covering the girls' term fees. . . )
These were my finishes - 2 UFOs and a gift. Click on the images for their finish stories.
Now I have to get back to the reality grindstone, though. Research for my thesis needs doing and there's a professional conference presentation to do in 5 weeks (my first ever - terrified!!) So I'm hoping I can get my February goals accomplished. Not sure if they were over-ambitious. . .
Lynne's Year of the Finished Project: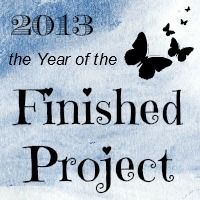 Leah's UFO Sunday FMQ: