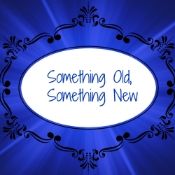 Lynne's hosting "Something Old, Something New" this year, and I think this approach to moving UFOs along while getting a taste of something fresh can work around my thesis focus for the next two terms.
My goal posts may be boring for the next few months! Nothing like the fun assortments of projects last year.
So, here are my January goals:
THESIS!~
Yay for the prospectus being accepted. Now finish reviewing recent publishings that touch my topic and get Chapter 1 submitted to Dr. Biggs before month's end.
(still have to read pretty much half of that right-hand pile)
SOMETHING OLD~
On mornings that I wake up in time, I can work for one hour on my Double Wedding Ring that I started in August. I need to piece its backing, get it pin-basted, and this month get the outer edge secured and try to get half the arcs ditched to stabilize the overall piece. (I quilt on a table-top domestic machine.) I really, REALLY want to have this quilt completed by our 25th anniversary on August 20th.
On Sunday mornings I will still let myself have a few minutes to a few hours (depending on family activities) to work on the BOMs I use for each week of the month. Right now that's Ruffled Roses; Hello, Moon; Holiday Tidings; and Kelly's Strolling the Block. All but Hello, Moon are long-term UFOs.
SOMETHING NEW~
Well, I'll have to fit rather loosely into Lynne's intentions on this category, as I don't have the luxury of any time to learn new techniques. But on the few days when I may be able to sneak in some additional sewing time later in the day after thesis work, I'll use this for my NewFO ventures. This month that will be piecework on my String of Pearls kit.
HAND STATION~
I anticipate getting to work in 20 minutes or so a few evenings each week for hand-work. We enjoy eating our dinner at the TV catching whatever series we're watching on DVD, so whatever's left of the 45 minutes after I eat my food, I'll work on labels for the 2 Kelly quilts I need to mail out and then work on blocks for my Affairs of the Heart. I got this "kit" 3 years ago as a BOM, and have only made 2 blocks to this point!
And that's it for January's projects-to-choose-from list! Not one of these projects will be finished this month, or even next, but the forward movement is all I'm looking for until the thesis is finished.