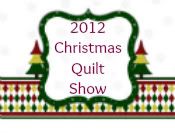 I love these virtual quilt shows! Thank you to Michele at Quilting Tutorials for hosting the 2012 Christmas Quilt Show.
The link-up is open until Nov. 30, so if you have a Christmas or Winter quilt to share, why not join in? :D
I'm super excited that I finished "Scoot, Santa!" in time to share it.
Making this quilt was a special treat from pre-conception to finish. It was a naughty thing to do, because I'm supposed to be strictly working on UFOs. But I was shopping on Etsy one day for a sweater for our Siamese and when I saw the Santa on scooter fabric, I just about died. You see, everything "scooter" makes me think of my aunt with a big smile. So there was no way I could pass
up
that yard of fabric, and this became my November NewFO.
So, I gave myself hard-fast rules: 1. It *had* to be sewn into a quilt in time for this year's Christmas; 2. I had to use *only* other fabrics from my stash; 3. I must break a quilting rule - if I was going to be naughty, I needed to get my "rebel" on in full!
Two weeks ago I came up with a concept, and had a most successful dig through the stash. The execution went off without much of a hitch - I just had a momentary pause when I saw my original road strips laid out and hated how overpowering they were. After sleeping on it, I realized I just needed to trim back the yellow. I couldn't bear to let go of the roads - Santa needed them. Plus, the shape was reminiscent of Santa's buckle.
The broken rule? You see how I put the background greens on the diagonal? Well, I didn't feel like piecing strips to make them long enough, and I sure didn't feel like cutting wide strips on the bias, so I cut them long-wise on grain and sewed them so that the edges of the quilt were all bias. This would really upset some of my older-generation quilt mentors, as it poses several potential problems - stretching as the quilt is pulled on, warping as you're working on it. . . But I figured it was a smaller lap quilt, so I'd give it a whirl. This is only 48" x 54".
Because of all that bias, I used a ton of pins to baste it - spacing within 3 inches.
For the most part, I did horizontal lines about an inch apart, using my walking foot. Between all those pins, the good amount of quilting, and a heavier-than-usual backing of fine-wale corduroy, I had no problems at all with rippling, and it is very sturdy! 3 strands of gray floss worked perfectly for the hand-quilted lane lines.
*Love* that backing. It's a gorgeous claret red. Nice and heavy/comfy for a New England or Colorado-mountain home.
The Santas were placed so that their scooters were on the level of the roads, and I did a simple free-motion meander with loops and snowflakes (yes, it was a tad challenging with that corduroy).
And I even had the perfect gold-on-black fabric for the binding~! I succeeded in all three rules - everything I needed for this project came from stash - all support fabrics, the backing, the batting, and even all the threads.
The best part of all: There was enough of everything to make a twin so we can keep one here in Colorado~! I only needed to splice some batting together. :D
So now that you've let me share my "Scoot, Santa" before it flies away to its new home, why not go on over to the Christmas Quilt Show and take a look at the many other wonderful projects people are sharing? :D
I'm also linking this up as my finish report for this week's Friday and this month's NewFO:
Thanks to these great hosts for superb inspirational link-ups! You should check these places out for more cool projects folks have finished. :D
*
Link A Finish Friday at Richard's
*